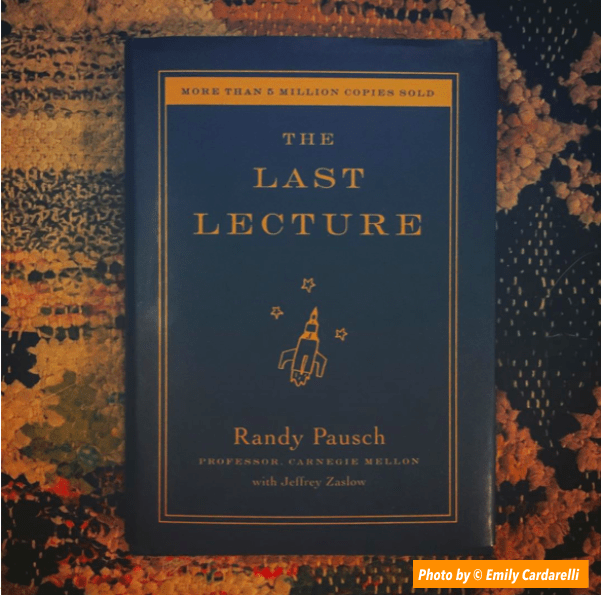 "The Last Lecture" a book by Randy Pausch and Jeffrey Zaslow
Hello there 🙂
This is my first post in English – I hope you'll like it!
Today is the perfect day to start reading the book "The Last Lecture" by Randy Pausch and Jeffrey Zaslow.
But firstly, let's take a small step back: you should know that this book was inspired by the famous "Last Lecture" given by Professor Randy Pausch at Carnegie Mellon University, before he died.
Writers
Randy Pausch
Randy was an American educator, Professor of computer science, human–computer interaction, and design at Carnegie Mellon University (CMU).
Pausch learned he had pancreatic cancer in September 2006.
In August 2007, he was given a terminal diagnosis: "3 to 6 months of good health left".
He gave an upbeat lecture titled "The Last Lecture: Really Achieving Your Childhood Dreams" on September 2007 at Carnegie Mellon, which became a popular YouTube video and led to other media appearances.
He then co-authored a book called The Last Lecture, which became a New York Times best-seller.
Jeffrey Zaslow

Zaslow was an American author and journalist for The Wall Street Journal.
In September 2007, after he attended the final lecture of Carnegie Mellon University Professor Randy Pausch, he collaborated with Pausch to write The Last Lecture, released in 2008.
The book by Pausch and Zaslow, translated into 48 languages, and more than five million copies of this book are in print in the U.S.
The plot
Let's be clear, this book isn't a sad book: Randy Pausch takes us through some of the milestones of his life journey showing plenty of joy, hope, irony, and courage.
His words are a touching and deep witness to a life made extraordinary by the intensity with which it was lived.
Also the book is not a literal transcription of his last lecture lesson, but has been expanded and enriched with anecdotes and "behind the scenes" previously unheard of.
Last Lecture on YouTube
My

opinion
I'll be very concise, for a change.
You can't read this book and be left unimpressed.
And you can't listen his lesson without taking some time to really think about it.
The words of Randy Pausch, trust me, will change your perspective,
Personally I was delighted to get to know this man and his teachings, even if only virtually.
At the end, Pausch's last lesson is not how to live life but, much modestly, it show us why life is worth living.

The end
If you want to buy the book, this is my Amazon affiliate link 🙂
And if you like this post, please do share it with all your friends on social networks!
And last but non least, please don't forget to comment down below if you buy "The Last Lecture" and follow me on Instagram and Facebook.
See you soon and take care 🙂
SHARING IS CARING